Skip to Content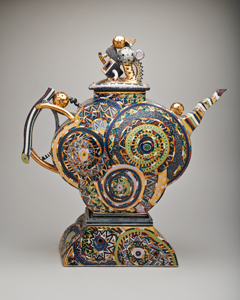 Unearthed | 1990s and Beyond
The increased speed of global communication and availability of knowledge allowed American ceramists to fully embrace and meld traditions from across cultures and historical periods—giving rise to the identity of the global potter. This rise of globalism has given way to trends in ceramics investigating cross-cultural identity, the long-lasting impact of colonialism, and a more critical eye to the representation of marginalized groups.

Ceramists have mined their own histories for sources of inspiration—returning to centuries-old forms and decorative motifs—while also embracing contemporary popular culture references and music. The "rule breaking" of earlier generations created a relaxed climate allowing ceramists to fully explore the range of clay's potential. The vessel tradition continues alongside ceramic sculpture, yet aesthetic presentation often continues to be prized over utility.

The internet has made technical information on ceramics available on a scale prior generations of makers could never have imagined. Social media revolutionized the digital presence of the art world, allowing ceramists to reach much wider audiences than ever before. In our increasingly digital world, the value of handmade objects is experiencing a profound resurgence. Driven by the predominance of "the screen" in our working and private lives, the physical act of making is being better understood as an integral part of a well-balanced lifestyle.
---
---
Your current search criteria is: Portfolio is "Unearthed | 1990s and Beyond" and [Objects]Artist is "Alice Cling".