Skip to Content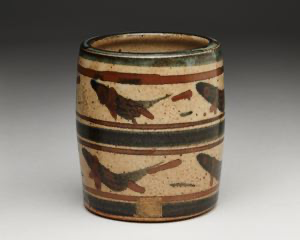 Unearthed | 1950s and 1960s
The ethos of experimentation and hands-on learning embraced during the 1930s and 40s laid the foundation for ceramics to flourish in the West during the 1950s and 60s. California, due to its well-established academic programs and bounty of natural materials became the central hub of ceramics production in the American West.

Voulkos sits at the center of a crucial debate in American ceramics of the '50s and 60s. Tensions grew between potters working in the vessel tradition and those, like Voulkos, who began playfully deconstructing the traditional norms of vessel making. For this rule-breaking avant-garde, the gestural possibilities of handbuilding with clay embraced the principles of Abstract Expressionism.

The 1960s marks a definitive break within the identity of the American ceramist. While many makers continue to adhere to the vessel tradition and identify as potters, the emerging younger generation invested in the sculptural possibilities of clay became artist-craftsman—signaling a push away from traditional crafts and toward fine art that would dominate future decades.
---
---
Your current search criteria is: Portfolio is "Unearthed | 1950s and 1960s" and [Objects]Artist is "James Melchert".