Skip to Content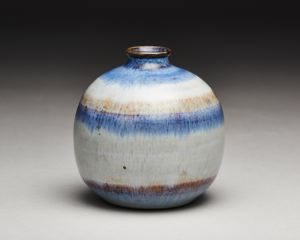 Unearthed | Nora Eccles Harrison Treadwell
Nora Eccles, who preferred to be called "Noni," grew up in Logan as a child in one of the wealthiest families in the state of Utah, but she had ambition to make an impact, and she did. In addition to her enthusiasm for collecting art and ceramics and her myriad of travels, Noni wanted to learn how to make ceramics. She enrolled in classes at California College of Arts and Crafts (CCAC) in Oakland, where she became Tony Prieto's student in 1946. Though Noni's work is small in scale, it is possible to follow her skill trajectory from heavier pieces to more balanced, detailed and refined.

Noni had a commitment to ceramics. She included in her estate a $2 million gift and four-hundred ceramics from her collection to be given to Utah State University in 1982. She also established the Nora Eccles Treadwell Foundation, which continues to support her legacy with annual gifts to the museum to purchase ceramics.

Through our 2022 eyes, perhaps she was more amateur in skill as a potter, but she was skilled as a philanthropist who made an extraordinary impact on the development of studio ceramics in the West through scholarships, collections, her Foundation, and the establishment of the Nora Eccles Harrison Museum of Art.
| | | |
| --- | --- | --- |
| | Showing 1 to 12 of 16 Records | |
---