Skip to Content

---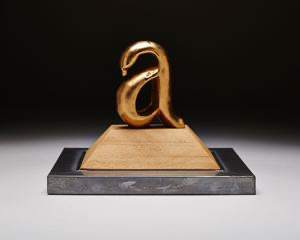 American
(1930–2023)


a

1969


Stoneware, wood, plexiglass
7 x 8.5 x 6.25 in.
Gift of the Nora Eccles Treadwell Foundation
2004.44
In 1969 Jim Melchert began a series of ceramic sculptures based on the lowercase letter

a

. These were featured in his 1970 exhibition at the San Francisco Art Institute, where he arranged them, like chess pieces, within squares marked by tape on the gallery floor. The letters were in fonts of his devising, and the paint color, size, shape of the base, and other details varied from piece to piece. When he began the series, Melchert had recently come across Raymond Queneau's

Exercises in Style

(1947), in which the French experimental author recounts a simple story in ninety-nine different linguistic modes, from poetic to pig Latin. In the same spirit, Melchert performed his own formal experiments. There was nothing symbolic in his choice; he simply liked the letter's shape and was curious to know how perceptions of it would change when it was expanded from two dimensions to three. In this variation Melchert coated a porcelain

a

with gold overglaze and mounted it on a trapezoidal wooden base that sits on a slab coated in lead foil. The entire work is encased in a plexiglass vitrine "to reinforce the preciousness of [the] porcelain" medium, as the artist remarked. Most of the a sculptures have titles including the letter, such as Speckled

"A"

or

"A" as in Amish.



A native of Ohio and a graduate of Princeton University, Melchert came to the University of California, Berkeley, to study with Peter Voulkos, who is credited with single-handedly elevating clay to the status of a fine art material. Though Melchert was already known for his work in the medium, in the early 1970s he put it aside for several years to explore photography, performance, installation, and slide projection, eventually combining these with his ceramic practice.

Constance Lewallen

---
Keywords

Click a term to view the records with the same keyword
This object has the following keywords:
This object was included in the following exhibitions:
Click a portfolio name to view all the objects in that portfolio
This object is a member of the following portfolios:
---
Your current search criteria is: Keyword is "BFO".