Skip to Content

---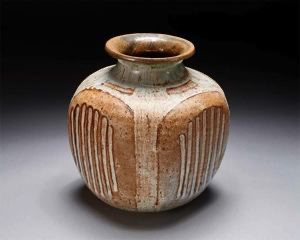 French/ American
(1896–1985)


Jar

1958


Stoneware
6.9 x 6 x 6 in.
Museum Permanent Collection
1984.509
This vessel is a flawless example of Marguerite Wildenhain's skills. The round, wide-lipped vase was paddled after throwing on the wheel to form a soft rectangle, and features a warm mocha glaze. Each side is treated with a decorative element of vertical stripes. It is thrown so well that it seems nearly weightless, being perfectly balanced throughout, but it also exemplifies Wildenhain's 1950s approach to shape and textural elements inspired by her many drawings from nature.

Wildenhain is known for her Bauhaus training and teaching methods. Though she was born in Lyon, France, her father was German and her mother was an English Jew. After high school, Marguerite made ceramic decorations in a porcelain factory, but when she saw workers throwing vessels on the wheel, she knew what she wanted to do with her life. When the Bauhaus sought students in 1919, she enrolled. After eighteen months of foundation courses with Paul Klee, Lionel Feininger, Joseph Albers, and Wassily Kandinsky, she was taught to design, throw, formulate glazes, and fire vessels. The last student admitted to the ceramics program before the Bauhaus was closed by the Nazis was Franz Wildenhain, who became her husband a few years later.

After the Bauhaus, Marguerite taught ceramics in a city school, where she finished the requirements to become the first female master potter in Europe. Forced to leave Germany, she maintained a pottery studio in Holland for seven years. Her last move was to a remote mountain site northeast of San Francisco, where she created Pond Farm Pottery and summer school. In America she introduced the Bauhaus sit-down kick wheel and throwing method. She made her own work in the winters, wrote three books, and traveled extensively for spring college workshops in forty-seven states over the next thirty years. From 1950 to 1980 about two dozen students came to Pond Farm each summer for intense instruction in pottery, philosophy, art, and life. Since her death, the property and buildings at Pond Farm have been preserved and have been designated a National Treasure by the National Trust for Historic Preservation.

Billie Sessions, PhD.

---
This object was included in the following exhibitions:
Click a portfolio name to view all the objects in that portfolio
This object is a member of the following portfolios:
---
Your current search criteria is: Portfolio is "Unearthed | 1950s and 1960s".