Skip to Content

---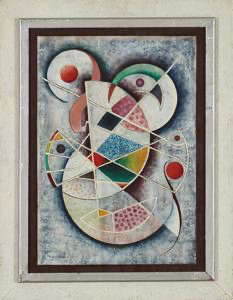 American
(1919–1992)


Kinetic Counterpoise

1940


Oil and collage on paper on wood panel
26.5 x 20.5 x 1 in.
Gift of the Marie Eccles Caine Foundation
1990.17
Kinetic Counterpoise

is an early work by Robert Ormerod Preusser, a pioneer of abstraction born and raised in Houston. He developed a modernist visual language while still in his teens, during a time when Texas embraced conservative styles and remained geographically isolated from major art centers. Under the tutelage of regionalist painter Ola McNeill Davidson, he created works inspired by European masters Paul Klee and Wassily Kandinsky as well as early American modernists Arthur Dove and John Marin. At Davidson's urging he enrolled in the Chicago School of Design and painted Kinetic Counterpoise during his first year at that prestigious institution.



Kinetic Counterpoise

features an all-over composition of vibrant geometric and biomorphic shapes against an undulating blue background. A series of white lines connects the shapes, enhancing the painting's calculated structure and activating it with movement and rhythm. Here Preusser experiments with an abstract surrealism, revealing the influence of instructors György Kepes and László Moholy-Nagy, especially the latter's interest in Russian constructivism.

While Moholy-Nagy strove to eliminate personal touches from his paintings, Preusser leaves deliberate traces in

Kinetic Counterpoise

: graphite sketch marks, a textural buildup of paint, and even a thumbprint to the right of the S shape at the bottom right corner. This whimsical painting also foreshadows Preusser's explorations in nonobjective art, along with his role as an advocate for the interrelationship between art and science. Its title implies a figural element, and an analysis of its composition reveals smiling faces returning the viewer's gaze.

In 1954, on the invitation of Kepes, Preusser joined the faculty of the Massachusetts Institute of Technology, where he taught for more than thirty years.

Kinetic Counterpoise

illustrates his maturation as an emerging artist.

Rebecca A. Dunham

---
Keywords

Click a term to view the records with the same keyword
This object has the following keywords:
blue
,
circles
,
collage
,
curvy
,
geometric abstraction
,
gray
,
green
,
half-circles
,
lines
,
oil paint
,
paper
,
pink
,
red
,
trapezoid
,
wood
This object was included in the following exhibitions:
Click a portfolio name to view all the objects in that portfolio
This object is a member of the following portfolios:
---
Your current search criteria is: Related to "Robert Ormerod Preusser".