Skip to Content

---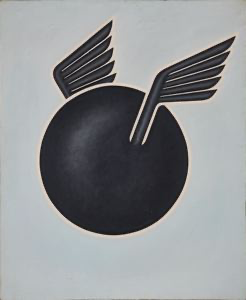 American
(1934–1992)


Bird

1965


Oil on canvas
22.75 x 18.75 x 1.5 in.
Gift of the Kathryn C. Wanlass Foundation
2011.78
Living and working largely on the West Coast in the 1960s, Leslie Kerr for the most part resisted the dominant pop art impulses of the period and styled himself as an abstract painter.

Bird

, however, painted in the mid-1960s, is a fascinating example of Kerr's work that combines different forms and styles. The image is of a dark blue winged sphere situated in the center of an empty, light-gray background. The painting's flattened surface, bearing no evidence of brushstrokes, along with the clean, sharp lines of the winged sphere, gesture toward a kind of pop graphic style, while the absence of any immediately apparent external referent signals a sort of abstraction. At the same time, though, the image possesses a profoundly surreal quality in its merging of these seemingly incongruous elements.

Kerr gives us a powerful clue as to the painting's meaning in its very title, with its allusion to flight and flying. Images of fiight are of course ubiquitously associated with freedom and liberation. Is it mere coincidence that this was painted in the middle of the 1960s, at a point when the civil rights movement, student protests, and antiwar demonstrations were at their height? That the weightless freedom promised by the wings is juxtaposed with the heavy darkness of the globe to which they are attached suggests that freedom, flight, and liberation are a struggle. Beyond this, the style of the wings may point much further back in time, to the great myths of the ancient world of Greece and Rome, of Nike and Hermes and Icarus, where the power of flight was reserved for the gods, and for man to entertain such a thing was hubris inviting destruction.

David Wall
---
Keywords

Click a term to view the records with the same keyword
This object has the following keywords:
This object was included in the following exhibitions:
Click a portfolio name to view all the objects in that portfolio
This object is a member of the following portfolios:
---
Your current search criteria is: Objects is "Bird".