Skip to Content

---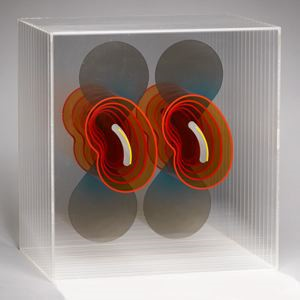 American
(1931–2007)


3807-10

1965


Plexiglass and enamel
16 x 15.125 x 10.875 in.
Gift of the Marie Eccles Caine Foundation
2002.11
Throughout his career, Norman Zammitt practiced a spectrum-inflected reductivism. For most of that career he deployed this restrained style on canvas, but at the time of his emergence in the mid-1960s he was working with plastics and other industrial materials, creating freestanding three-dimensional objects. These distinguished themselves from the work of Zammitt's "finish fetish" peers by their relatively rich, sometimes almost baroque, formal language and their reliance on intricate structure to help define the shapes floating in otherwise transparent objects—all the while drawing attention away from those shapes and toward the artist's compositional and technical virtuosity, not to mention the elaborate cleverness of his constructions.




3807-10

exemplifies Zammitt's mid-1960s approach. Apparently suspended within a plexiglass box, a complex overlay of curvaceous forms, some almost neon red and others a cool gray-green, seems to balance itself delicately within a "medium" that reveals itself not as a substance in itself but as an interleaving of solid, if transparent, layers of plexiglass and air. The forms, too, are not whole, but consist of translucent planes stacked up against other planes.

What is sculptural here is not the seemingly suspended overlay—which, if anything, consists of negative space and uniplanar renderings, and thus comprises nothing palpable—but the overarching structure, the clear cube composed of many small vertical slices. Zammitt's reliance on cubic form recalls that of artists such as Larry Bell, while his focus on organic abstract shapes is reminiscent of the protofunk sculptures of Kenneth Price. What makes this work of Zammitt's unique to his oeuvre is its multiplanar structure, and the way it confuses, and ultimately reconfigures, our visual comprehension of volume and depth.

Peter Frank
---
Keywords

Click a term to view the records with the same keyword
This object has the following keywords:
This object was included in the following exhibitions:
Click a portfolio name to view all the objects in that portfolio
This object is a member of the following portfolios:
---
Your current search criteria is: Objects is "3807-10".