Skip to Content

---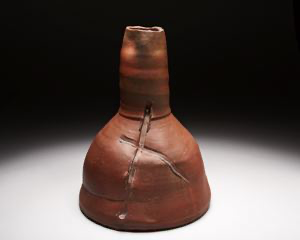 American
(1913–2005)


Form VI

1991


Stoneware
12.5 x 8.625 x 8.625 in.
Gift of the Nora Eccles Treadwell Foundation
1991.40
For people who want to find ways to express a sense of their place in the universe, we need a language through which to know and to wonder, to make experience into something conceivable. In a universe of inherent change and revelation, I find that the key to breaking the barrier to new possibilities is in making something.


— Richard Turner

Robert Turner began his career as a functional potter, but in the late sixties he started to rethink his work. Artistic influences from the American Southwest, as well as several trips to West Africa, led him to experiment with form. Cones and cylinders became the key shapes of this new direction, as shown by

Form VI

, a hand-thrown stoneware vessel with matte glaze. The recurrent incisions in his works are reminiscent of African scarification. Through simplification and abstraction, his ceramics are pared down to their essence. This applies to the limited use of colors as well: red-brown, white, and black, often sandblasted, and to the material, exclusively stoneware. Speaking about the shift in his production, Turner says:



I began to take the pots in their wet state right off the wheel [to] see how much of their structure could be retained and how it could be altered... It became quivery, at the edge of form, and became very present. It talked back; it responded. It had to find its own name: it's not from another culture, but from the here and now, pooling one's personal knowledge through that present and intimate experience.



Turner's artistic research was pervaded by a deep spirituality. He saw the universe as animated by an internal energy: "the invisible attempting to be visible. This fits the meaning of spirituality for me."

Robert Chapman Turner was born in Port Washington, New York, in 1913. He studied painting at the Pennsylvania Academy of Fine Arts in Philadelphia, where he obtained two fellowships that allowed him to travel throughout the United States, Mexico, and Europe. Attracted by the physicality and handmade aspects of ceramics, he later changed his course of studies, and in 1949 he obtained an MFA in industrial ceramic design from New York State College of Ceramics at Alfred University. Later, he was invited to start the ceramics program at Black Mountain College in North Carolina. In 1952, he established a studio in Alfred Station, New York, and became a faculty member at Alfred University's school of art and design, where he taught ceramic art until his retirement in 1979.

Sara Eco Conti, PhD.

---
Keywords

Click a term to view the records with the same keyword
This object has the following keywords:
This object was included in the following exhibitions:
Click a portfolio name to view all the objects in that portfolio
This object is a member of the following portfolios:
---
Your current search criteria is: Objects is "Form VI".